While teaching at Clear Creek Baptist Bible College from 1990 to 2018, I invited many students to join me in walking across the beautiful campus located in the Appalachian Mountains in south-eastern Kentucky. Only a few brave souls dared take me up on this walk – up the hills and across the level areas. The trek stretched to about 3 miles.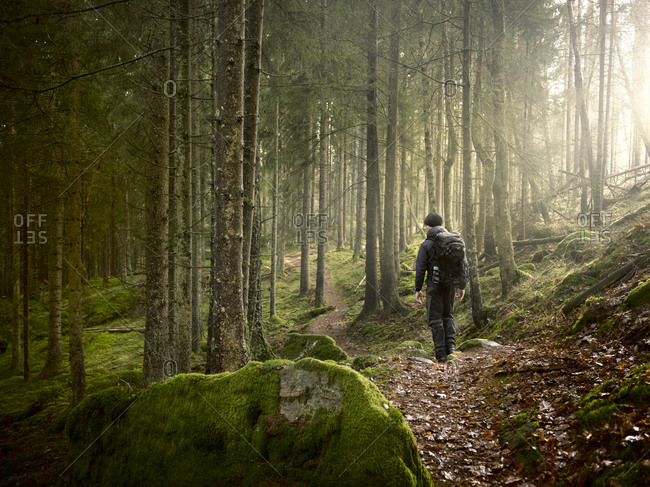 Many students provided excuse after excuse as to why he or she couldn't walk. "I don't have time!" "I am so fatigued." "It's freezing outside!" "The heat is scorching!" or "Walking makes my body hurt!"
Might it surprise you that walking is mentioned 203 times in the King James Bible and 210 times in the New American Standard Bible. Every reference mentioning "walking" does not refer to a literal walk. Some refer to walking in the law (Ex 16:4).
Imagine my surprise when I discovered that the prophet Micah mentioned walking, "Though all peoples walk each in the name of his god, yet we walk in the name of our LORD our God forever and ever," (Micah 4:5).
When it comes to reading the Bible, many Christians become creative with excuse making. "I don't have time." "I am so busy." "I have work, family, and church as well as civic clubs and little league." I'm sure no Christian would say, "I don't need to read the Bible."
Why should a Christian desire to walk through the Word in 2020? Why should you entertain the idea of walking through the Bible in 2020? Let me offer several reasons. Perhaps you can offer more?
First, We need to walk through the Bible because it is God's Word (2 Timothy 3:16). It is God's method of communicating with his children. The Bible is God's method to feed us, to instruct us, to share His love towards us. The Bible is God's offering so we can know His will for our lives. Man does not live by bread alone, but by every word that comes from the mouth of God (Matt 4:4).
Second, we need to walk through the Bible because its contents are always true and reliable. Hundreds of prophecies beg to be examined and proven fulfilled. Historical records demonstrate the veracity of many of the words of the Bible – the birth of Jesus at Bethlehem and the death of Christ on the cross are only two of such prophecies.
Third, since nothing is new under the sun (Ecclesiastes 1:9), God's holiness and man's fallenness do not change with the passage of time. Man craves deep relationships which only God can provide. If you desire to find peace and wholeness, then you must seek to know God, which is made possible by reading the Word. The Bible shines its holy light on our sin and illumines God's only method for riding us of our sin problem – Jesus Christ.
Fourth, the abundance of false teaching provides another reason why the Christian needs to read the Bible. False teaching leads to false living and wrong worship. The Bible encourages us to meditate on its words day and night (Psalm 1). The Bible is light for our walk and can make us wise (Psalm 32:8). The Bible reminds us of God's love for us (John 3:16). We read the Bible so we can apply it. The Bible reflects our fallen image so we can repent and strive to live holy lives.
Fifth, many of us have heard about the Bible all our lives from our parents, grandparents, friends, and others. But 2020 is the year to read it for yourself.
Another reason to read the Bible is it is the best seller. The Spanish novel Don Quixote has been published since the 1600s. Estimate says that it has sold more the 500 million. C. S. Lewis's The Lion, the Witch, and the Wardrobe is estimated to have sold 85 million copies.
How many copies of the Bible have been purchased? No one is for certain, but some estimate it to be over 6 billion. Yep, 6 Billion! If it has been bought that many times, why not read it in 2020.https://www.precept.org/2012/11/02/why-study-the-bible-our-top-10-reasons/
If you are looking for a reading plan, check out some of the following by BibleStudyTools.com. https://www.biblestudytools.com/bible-reading-plan/
They offer:
71 Days in Isaiah – You can work your way through Isaiah in 71 days to experience his prophetic words.
Book Order – read from Genesis 1 to Revelation in the order they are arranged in the Bible.
Chronological – Read the Bible in to order of the events as they happened.
Chronological New Testament – in only 3 months you can read the New Testament in the order that the events happened.
Classic – read 3 passages each day beginning with Genesis, Psalms, and Luke.
Daily Gospel – the plan focuses on the recorded life of Christ. You read through each of the Gospels in 45 days.
Read Through the Bible in 90 Days. It is challenging but work taking.
They offer a plethora of other plans worthy of your checking out.
Quotes to tweet:
"If you desire to find peace and wholeness, then you must seek to know God, which is made possible by reading the Word."
"The Bible shines its holy light on our sin and illumines God's only method for riding us of our sin problem – Jesus Christ."